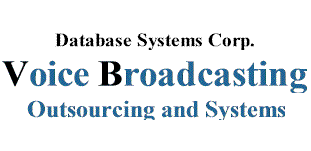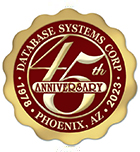 Voice Broadcasting Software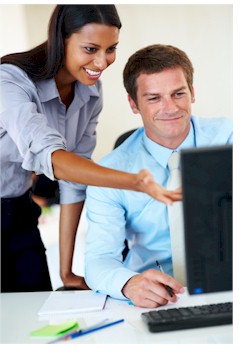 Voice broadcast software manages the delivery of voice messages to thousands of call recipients in a short period of time.

Database Systems Corp. (DSC) is a leading provider of voice broadcasting solutions. Voice broadcast software manages phone lists and recorded messages as well as text to speech conversions. Voice broadcasting software also manages the scheduling and operation of the voice broadcast campaigns.

DSC voice broadcasting software manages the developing and running of voice broadcast campaigns and applications. The DSC voice broadcast Wizard provides users with a step by step approach to defining voice broadcasting programs.

Voice broadcasting has also be refered to as an outbound IVR phone campaigns. To initiate a voice broadcast, simply record your phone messages, assemble your list of individuals to be called and fill in the blanks using our VB Wizard. Simple message campaigns as well as complex "Press Through" programs can be put together in a logical and simple fashion.

DSC provides a complete IVR software development toolkit for more complex voice broadcasting applications. Programmers can use this library to create complex voice broadcast campaigns on LINUX, Unix or Windows servers that control the voice broadcasting phone system. This "Open" approach to voice broadcast development provides maximum flexibility when creating phone applications.

Contact DSC to learn more about our voice broadcasting software solutions.


---
Williamson County, Texas Sheriff's Department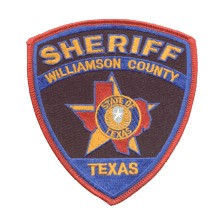 "Williamson County, with the City of Georgetown, offers this free program (CARE) to serve homebound and senior citizens. Once you have registered, you choose a specific time of day to receive a daily computerized call. If you are ever unable to answer the phone, the computer sounds an alert and someone will come to check on you." - wcportals.wilco.org

DSC provides its CARE phone system to the Williamson County Sheriff's Department to check on the well-being of disabled persons, older adults, and individuals who live alone in the communities of Williamson County, Texas. This system incorporates our voice broadcast technology along with DSC's IVR software.
---
Voice Broadcasting and IVR Software
Voice broadcasting software from DSC allows developers to create custom applications affiliated with a calling campaign. When the call is delivered to an individual, an IVR software script can be invoked that leads the caller through menu options. These options include transfering the call to an operator or outside phone extension.

DSC also provides voice broadcast XML software that allows you to automatically initiate phone messages from another computer system or from a website. The following are just a few of the features of our voice broadcast and IVR software.
Client/Server Architecture
Digital T1 800 Number Support
Analog Phone Line Support
Hearing Impaired TDD / TTY Phone Support
Linux, Unix, and Windows API libraries
DNIS Controlled
Sample VB Reports
Multiple Concurrent Programs
Play Message and Prompt
IVR Phone Key Input
Play Music On Hold
Call Outside Line and Transfer Call
Call Outside Line and Prompt for Input
Connect Caller to Outside party
Record Messages and Store
User Navigation and Selection
Voice Mail
Route Caller to Selected Agent Groups
C or C++ Visural Basic library
Database Access and Update
Text To Speech Software (TTS)
Mix Messages and Text
Response Logging and Reports
Contact Database Systems Corp.
Contact Us Today to learn more about our voice broadcasting software products and hosted voice broadcastingservices.



Voice Broadcast Information
Quick Tour
Voice Broadcast Reports
User's Guide
Simulation Model
Online Registration
Demonstration

Voice Broadcast Solutions
Voice Broadcast Software
Voice Broadcast Services
Voice Message Broadcast
Voice Broadcast Supplier
Voicemail Broadcasting
Message Broadcasting
Text Message Broadcast
Phone Broadcasting
Voice Broadcast Applications
Voice Broadcast Technology

Voice Broadcast Supplier
Voice Broadcast Company